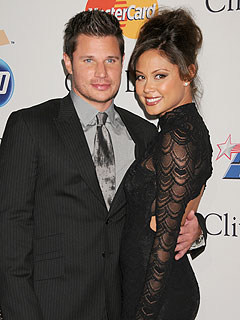 Vanessa Minnillo
hasn't chosen her wedding cake and isn't dishing on the kind of dress she wants. But she is sure about one thing ahead of her marriage to
Nick Lachey
.
"The best part is that you know someone has your back, no matter what," Minnillo, 30, told PEOPLE at a youth-mentoring event in Silver Spring, Md., recently. "It's not that I didn't know that before – I kind of teetered on it – but now I know for sure that no matter what, this guy's got my back."
She added: "There's nothing we can't work out, and there's nothing we can't talk through. There's no obstacle we can't overcome, and that's a beautiful, comforting thought."
Not wanting to tip off Lachey, 37, about her bridal look, Minnillo demurred when asked about her gown. But when it comes to the cake, she admitted she loves "all flavors" and "might have to do different layers and different flavors."
And will her beloved Yorkiepoo, Wookie, be the ring bearer? "If he is, it's going to take a lot of training and discipline, because right now he's just too shy," she said. "He'd panic down the aisle and probably run off with the rings. Maybe I should get started on that, right?"
Credit:
PEOPLE
(Arnesa A. Howell)